The "NEVER AGAIN" Association spoke out against the current wave of antisemitism in Poland and it became a target of a hostile campaign by a Polish official.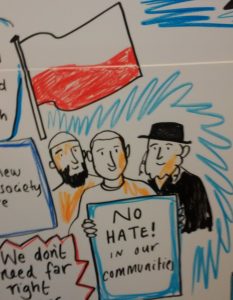 Since late January, Poland has witnessed a series of outrageous statements in media and politics in connection with debates around the so-called "history law" prohibiting defamation of "the Polish state and nation".
For example, Beata Mazurek, the Polish Parliament's deputy Speaker and spokesperson of the ruling party tweeted the words: "From now on it will be difficult to look at Jews with sympathy and friendship". Jacek Zalek, a deputy chairman of the ruling party faction in the Parliament, said in a televised interview: if the Poles are held responsible for the 1941 Jedwabne pogrom "than one might conclude that if the Jewish police was responsible for leading Jews to the gas chambers, than the Jews themselves created the Holocaust for themselves." Kornel Morawiecki MP said in a recent interview: "Do you know who chased the Jews away to the Warsaw Ghetto? The Germans, you think? No. The Jews themselves went because they were told that there would be an enclave, that they would not have to deal with those nasty Poles." The "NEVER AGAIN" Association has documented dozens of similar comments made in the last weeks.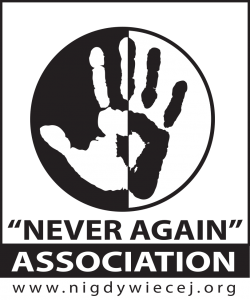 Members of the "NEVER AGAIN" Association have protested against the wave of antisemitism through numerous interventions in Polish and international media. They also took part in several high-level international meetings where they discussed the current situation. The meetings included the Polish-British Belvedere Forum held in London on 19-20 February with the participation of officials and intellectuals, including Professor Norman Davies and the UK Envoy for Holocaust Issues Sir Eric Pickles. "NEVER AGAIN" was also represented at the round-table of the European Council for Tolerance and Reconciliation held in Monaco on 5-6 March with the participation of former British prime minister Tony Blair, Prince Albert of Monaco, and historian Sir Antony Beevor, among others.
On 19-21 March, the "NEVER AGAIN" Association was represented at the Global Forum for Combatting Antisemitism held in Jerusalem with the participation of the President of Bulgaria Roumen Radev, former French prime minister Manuel Valls, the president of the World Jewish Congress Ronald Lauder and numerous other figures. "NEVER AGAIN" co-founder Rafal Pankowski was invited to speak on the Forum's panel about historical revisionism and antisemitism in Eastern Europe. His presentation consisted mostly of examples of controversial statements made by public figures in the last weeks, with minimum commentary. He pointed to the existence of Polish civil society initiatives against antisemitism as a positive sign and he was subsequently congratulated for his talk by numerous conference participants.
Upon conclusion of the Global Forum, a hostile social media campaign was launched by Andrzej Pawluszek, an adviser to the Polish Prime Minister. Pawluszek was also present at the Forum, but did not take the floor. Instead, he published a number of tweets calling the "NEVER AGAIN" presentation "an incredible scandal". He alleged "Pankowski did not have much to say, nothing concrete, he just quoted supposedly <antisemitic> statements of politicians." He also added: "It is sad that a Pole had nothing nice to say about his own country."
Pawluszek's smears were retwitted by, among others, Deputy Speaker of the Senate Adam Bielan and Krzysztof Ziemiec, the anchor of the main news programme on state-controlled TV. Rafal Ziemkiewicz, a Polish TV commentator notorious for using antisemitic language who has 155,000 twitter followers, posted his own comment in response: "the problem is the home-made rascal".
Pawluszek's campaign was also taken up by Krzysztof Bosak, a deputy leader of the extreme-right Nationalist Movement party (Ruch Narodowy, RN), who has 140,000 followers on twitter. He began his own series of posts by exclaiming: "Warning, another representative of academia defaming Poland". Bosak's post was retweeted by, among others, Sebastian Kaleta, a high-ranking official of the Ministry of Justice.
Not surprisingly, the above mentioned posts resulted in a large number of hostile and threatening comments, for example:
"Why can't we put TNT in the ass of this Pankowski?"
To Pawluszek: "Couldn't you punch him in the face on our behalf? We would collect money for a possible punishment."
"Pankowski went there to earn his Judas' shekels."
"Disgusting, who employs him?"
"But is this gentleman really Polish? Or maybe he only has Polish documents? It would explain his behaviour!"
"A Pole? He is just a Polish-speaking Jewish mongrel dog."
"There are full-blooded Poles, but there are also such lice, misfits and shabes goyim who cannot be called Poles."
"We must identify all those pseudo-Poles and show them to society. Only the truth will set us free."
Rafal Pankowski, who is a sociology professor at Warsaw's Collegium Civitas, said: – "I am disappointed Mr Pawluszek did not wish to discuss any issues at the Global Forum in Jerusalem, but resorted to an online campaign. Such behaviour is unworthy of a public official, but it is unfortunately emblematic of the current climate of xenophobia."
The "NEVER AGAIN" Association is an independent organization established in Warsaw in 1996. The mission of the "NEVER AGAIN" Association is to promote multicultural understanding and to contribute to the development of a democratic civil society in Poland and in the broader region of Central and Eastern Europe. It received personal endorsements from figures such as Jan Karski, Simon Wiesenthal and Barack Obama, among others.
Additional information:
www.nigdywiecej.org
www.facebook.com/Respect.Diversity
www.twitter.com/StowNIGDYWIECEJ