Twenty years ago the 'NEVER AGAIN' Association issued its first compilation album under the heading 'Music Against Racism'. To mark the anniversary, the full contents of the historic release has been uploaded on YouTube .
The 'Music Against Racism' campaign was a brainchild of the late Marcin Kornak (1968-2014), 'NEVER AGAIN's founder, a poet and an activist. Inspired by the British 'Rock Against Racism' initiative, Marcin managed to encourage numerous Polish bands and singers to join the movement against racist violence.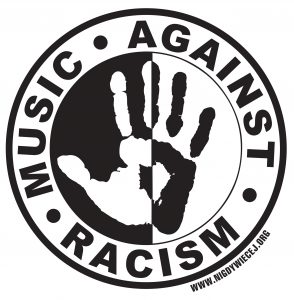 The first album in the Music Against Racism series has become a rare collectible by now. It featured tracks by top-notch Polish rock bands who donated songs dealing with the issues of hatred and intolerance. The first stellar review was published on the pages of Gazeta Wyborcza, Poland's main quality daily newspaper. The campaign was subsequently ranked one of four most important musical events of the year in a poll by readers of Brum, a popular music monthly. More albums in the series followed over the years, bringing together artists of various genres, from the rapper Liroy to the folk band Trebunie-Tutki, which in itself was a statement of diversity and tolerance. Furthermore, the action was supported by UK-based Chumbawamba and Zion Train, bands known for their activism. As Marcin Kornak commented later on: 'Many people took Music Against Racism and its message as something personal and important in their lives.'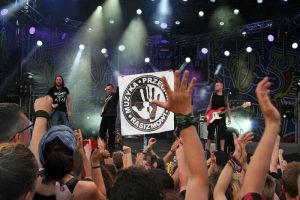 Jerzy Owsiak, a longtime ally of the 'NEVER AGAIN' Association and organizer of the annual Polish Woodstock Festival, said: 'I think this action, Music Against Racism, is great. The role of music is so huge. There is no better way to reach people than through music. This is the best kind of education, the best kind of awareness.'
'We could see what was going on in Poland back then, we saw the violence at gigs and thus we fully committed ourselves to Music Against Racism. It was the only music-based action which tried to raise awareness and talked about things which others failed to mention, like fascism,' says Robert Matera of the seminal Polish band Dezerter.
Krzysztof 'Grabaz' Grabowski, Poland's leading singer-songwriter declares: 'I have always supported and I will always support NEVER AGAIN in their fight against racism and bigotry.'
Joanna Naranowicz of the punk-rock band Qulturka, closely associated with 'NEVER AGAIN', says: 'It's a great honour to play for Music Against Racism and represent its message, even more valid now than back in the day.' The campaign's motto is still used for concerts and festivals, while many musicians put its logo (an open white-and-black hand) on their releases. Artists and promoters who wish to join the initiative can contact the 'NEVER AGAIN' Association at redakcja@nigdywiecej.org .
The 'NEVER AGAIN' Association is an independent organization established in Warsaw in 1996. Its mission is to promote multicultural understanding and to contribute to the development of a democratic civil society.
Additional information:
www.nigdywiecej.org
www.facebook.com/Respect.Diversity
www.twitter.com/StowNIGDYWIECEJ
'Music Against Racism' – the first compilation record released by the NEVER AGAIN Association (1997):